Increasing Diversity & Inclusion in the Legal Academy
At the University of Wisconsin Law School, we don't just talk about diversity, equity, and inclusion — we work to create a more diverse and inclusive community dedicated to the pursuit of equal justice under law. We believe law schools have a responsibility to create a learning environment where everyone feels safe, valued, respected, and heard; and we recognize our unique role in working to end systemic inequalities.
The Fellowship reflects a commitment to diversity and inclusion in the legal profession and especially encourages applications from candidates of color and other underrepresented communities in the legal academy.
Current Hastie Fellow
Leigha Crout is the current William H. Hastie Fellow at the University of Wisconsin. Her research interests include constitutional law and theory, international law, and human rights. She is a doctoral researcher at King's College London and a Research Associate with Oxford University's China, Law and Development Project.
Previous Hastie Fellows
Mario Barnes
Dean Emeritus
University of Washington Law School
Hastie Fellow 2002-2004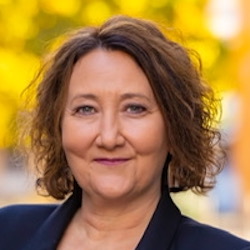 Stacy Leeds
Willard H. Pedrick Dean
Sandra Day O'Connor College of Law,
Arizona State University

Hastie Fellow 1998-2000
Thomas Mitchell
Professor of Law; Director of the Initiative on Promoting Land and Housing Rights
Boston College Law School
Hastie Fellow 1996-1999
Kimberle Williams Crenshaw
Professor of Law
Columbia Law School
Hastie Fellow 1984-1985
Program Overview
The Hastie Fellowship is a two-year program that supports aspiring scholars in preparation for a career in law teaching. Fellows pursue a scholarly agenda of their choice, typically prepare two pieces for publication, and receive mentoring in both their teaching and scholarly work.
Two-year Program
Scholarly Agenda & Publication
Teaching & Scholarly Mentoring
Commitment to Inclusion
Since 1973, UW Law School's Hastie Fellowship has been a leader in guiding and increasing opportunities for lawyers of color and other underrepresented communities to become law professors. The program honors William H. Hastie (1904-1976), a lawyer, teacher, jurist and civil rights advocate who championed the importance of high-quality legal education.
Learn more about the Hastie Fellowship history and the remarkable careers of our Hastie graduates.
Scholarly & Teaching Expertise
Under the guidance of mentors and with faculty support, Hastie Fellows will:
engage in intensive research and writing,
participate in the hiring process of law schools, and
gain teaching experience.
Program Sequence
Hastie Fellows are appointed for a term of two years.
First year: emphasis on scholarship and research agenda
Second year: application to legal teaching market; emphasis on teaching experience and publication of research
Contact Us
Contact the Graduate Programs Office with any Hastie Fellowship questions.
Email
Mailing Address
UW Law School
Attn: Graduate Programs Office
975 Bascom Mall
Madison, WI 53706