Wisconsin Historical Images RSS Feed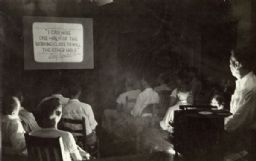 The Wisconsin History Society has a lot of interesting RSS feeds, including one highlighting old photographs from it's archives.
This photo came around last week. A group of young men is sitting in a darkened, smoky-looking theater. On the screen is a quote from Jay Gould: "I can hire one-half of the working class to kill the other half" That's just creepy.